I had two days off last week to attend my Grandad's funeral in Calverley, near Leeds. When I say funeral you'd expect a very staid and teary affair. But it was nothing like that. He was in no way a religious man (rather like myself) and had stipulated that he didn't want a religious service. So, it was just his two sons; Peter (my Dad) and Tim speaking about their Dad to friends and family. Everything was very cheerful, we entered to In the Mood by Glenn Miller and exited to the Skye Boat Song. My Grandad was very respectful of his Scottish roots and loved holidaying in Scotland and doing proper Scottish country dancing. I'd like to think this rubbed off on me adds to why I feel so welcome in Edinburgh and Scotland in general.
This is a photo of him in the RAF (back row, 2nd from the left):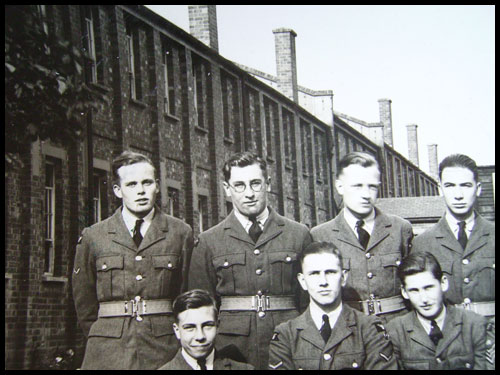 Blimey I look like him.
Afterwards we went back to my Grandma's for tea and scones (or scoones if you're from Yorkshire) to reminisce about times past. On the way back up north to Billingham we stopped at Thirsk for awesome fish and chips and watched two daft ducks sit in the middle of a road.