Edinburgh Council have a "Citizen's Account" area on their website. I registered so that I could view and pay my council tax bills online. The process had been surprisingly painless until I came to add my council tax account number. I was presented with this stellar piece of form design: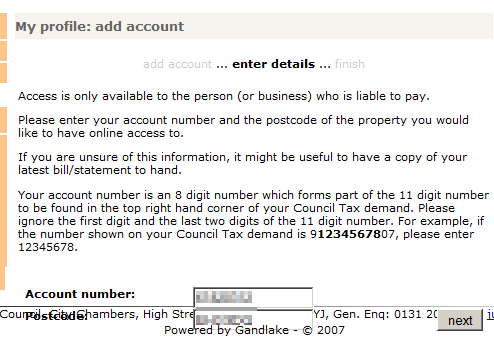 Ignoring the incredibly sloppy layout bugs, it doesn't look so bad, until you actually read the text:
Your account number is an 8 digit number which forms part of the 11 digit number to be found in the top right hand corner of your Council Tax demand. Please ignore the first digit and the last two digits of the 11 digit number. For example, if the number shown on your Council Tax demand is 91234567807, please enter 12345678.
(my emphasis)
Why, why, why are they making the user jump through hoops when entering a simple number? Why isn't all this stupid number truncating done by the server? Entering an 11 digit account number (only once I notice) can be difficult enough without having to do a number puzzle on the data first. Council, you must try harder.